Josefina Montoya American Girl collection 1997-2011 complete minus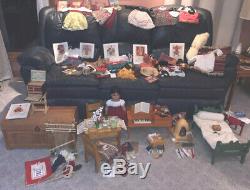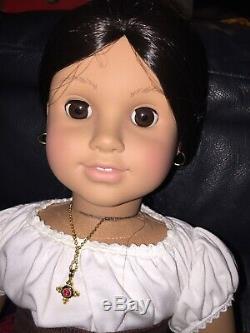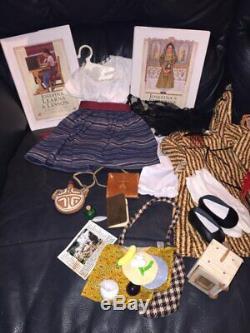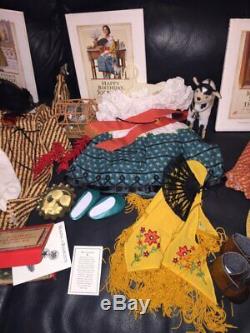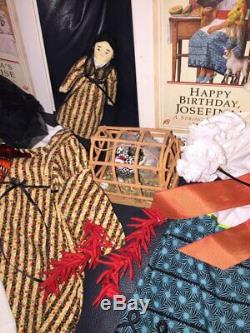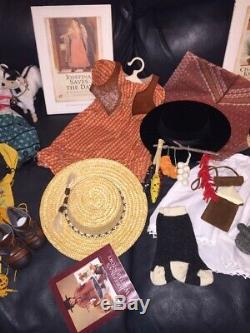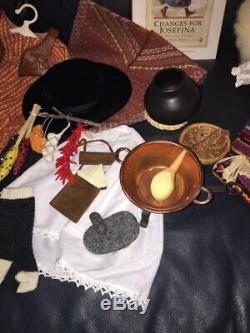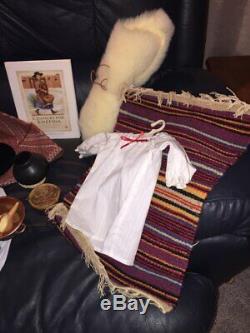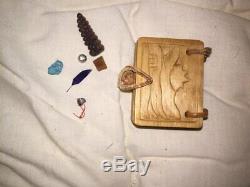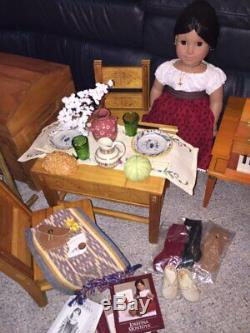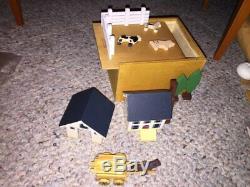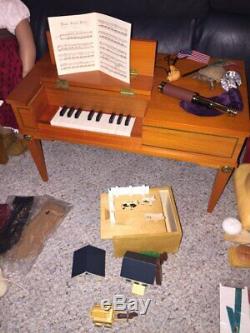 There is no way for me to fill that in where the size and weight measurements are entered, since it assumes a single package. The weights are as accurate as I could make them with oversized boxes and a bathroom scale.
Ive tried to describe the collection as completely as possible, but if you have any questions, please ask! The items have not been played with. I set up a display of all the items at a library one time. The Josefina doll has been displayed several times, though, dressed in the clothes of the other American Girl dolls.
I re-braided her hair one time, I think, and her pony tail is now held together with a covered band rather than the original rubber band. It does have a few hairs that have come loose from the braid and could probably stand to be braided again. The collection comes from a non-smoking home.
I dont have any pets, but I have relatives with animals and I cant guarantee that absolutely no stray hairs or dander got near them when I spread them out to take pictures. I bought the complete set not long after the second three books and their accessories came out, probably in 1998 or 1999 and certainly by 2001, and then bought the additional outfits and items as they came out, mostly.
The one that I managed to miss somehow was her Herb-Gathering Outfit from 2006. Below is a list of all the items included in this listing; I went through the American Girl Wiki and made a list of all the items in the original collection [not the BeForever one].
The items are mostly as new, with a few things annotated if theres something slightly wrong. Ive taken more than twice that many; just let me know if you want me to send the rest of them. I cant promise that the hangers are the exact ones that came with each outfit. If an item is in its original box Ive noted it. The other items are not in their boxes or packages.
These are going to have to be packaged in several boxes, not just to stay within size and weight limits but because I think it will be safer as far as squashing is concerned. Also included are the six books in the series, in their original white dust jackets, in excellent condition: Meet Josefina Josefina Learns a Lesson Josefinas Surprise Happy Birthday, Josefina Josefina Saves the Day Changes for Josefina and the short story books, also in excellent condition: A Reward for Josefina Again, Josefina! Josefinas Song Just Josefina Thanks to Josefina There are also a bunch of the little pamphlets or brochures that came with the various items.
A couple of the hair ribbons are missing (probably mixed up with the stuff from all my other American Girl dolls), but on the bright side the set of her hair ribbons replaces most of them. The missing ribbons are noted below. Basic Meet Doll ___Doll ___Camisa, white with short puffed sleeves ___Skirt, maroon with black flower print ___Sash, brown with stripes ___Drawers, white knee-length ___Moccasins, lace up (these shoelaces are what seems to be faux leather, but they are disintegrating) ___Hair Ribbon, dark turquoise is missing ___Flowers, 3 yellow on one stem Josefinas Accessories ___Rebozo, multicolor stripes ___Pamphlet showing how to wear rebozo ___Necklace, cross with garnet, with cardboard insert in plastic bag ___Pouch, leather, with button and belt loop ___Handkerchief, white with embroidered flower ___Coin, replica copper jola, with paper envelope Josefinas School Collection Indigo Skirt and Camisa ___Skirt, blue striped ___Camisa, white with lace trim ___Sash, dark red with tassels Josefinas Books and Supplies ___Speller (Silabario) ___Ledger, leather covered ___Inkwell, green glass with cork ___Quill pen ___Notebook (cuaderno), brown suede with green ribbon bookmark Josefinas Picnic Lunch ___Bag, black and cream checked ___Napkin, orange cloth with printed design ___Canteen ___Tortillas, 1 yellow, 1 blue ___Squash, with slices ___Onions, cluster of three white ___Cheese, white, wrapped in white cloth tied with twine ___Plum Writing Desk and Stand (in original box with packaging) ___Stand ___Desk Josefinas Holiday Collection Christmas Dress and Mantilla ___Dress, yellow and brown striped ___Underwear, one-piece with pantalettes ___Stockings white knee-high ribbed ___Shoes, matte black ___Mantilla, black lace with sewn-on tortoiseshell plastic comb Josefinas Doll ___Doll Josefinas Christmas Eve Set ___Lantern ___Tray with zigzag edge ___Bizcochitos (2 round, 2 star, 1 crescent) ___Ramilletes and Bizcochintos Activity Kit ___Recipe ___Instructions ___Sticks ___Pine sprigs ___Star shapes Christmas Accessories (also known as Chicken and Chiles) ___Chicken ___Cage ___Eggs (2) ___Chili peppers (2 strings) Josefinas Birthday Collection Feast Day Finery (Josefinas Feast Outfit) ___Camisa, with ruffles at neckline and sleeves ___Skirt, white top, turquoise bottom ___Sash, orange ___Shoes, turquoise satin mules ___Hair Ribbons, 2 red are missing Heirloom Accessories (Josefinas Heirlooms) ___Shawl, gold with floral embroidery and fringe ___Fan, black lace with tassel ___Choker, black, with gold pendant Sombrita the baby goat ___Goat ___bell on rope New Mexican Table and Chairs (in original box) ___Table ___Chairs, 2, wooden, carved Josefinas Birthday Dishes and Party Treats (with original box) ___Runner, cream colored with floral embroidery ___Plates, 2, glazed white painted wit blue pattern ___Pitcher, beige with colored design in bands ___Tumblers, 2, green swirl glass ___Knives, 2, bone handles ___Forks, 2, bone handles ___Bread, loaf, sprinkled with sesame seeds ___Cantaloupe, split into 2 pieces ___Jar, ceramic, rust colored with painted flowers ___Bough of apricot flowers Josefinas Weaving Loom (in original box) ___Loom ___Batten ___Fork ___Shuttle ___Clamp ___Needle ___Yarn ___Warp ___Instructions Josefinas Summer Collection Josefinas Summer Outfit (also known as Summer Riding Dress and Hat) ___Dress, orange print, long with ruffles ___Vest, leather bolero with embossed design ___Hat, flat, straw, brown and white braided chin strap Josefinas Riding Boots ___Boots, two-tone brown English Square Piano (in original box) ___Piano ___Sheet Music Santa Fe Summer Fun Set ___Bird Whistle (first edition, functional) ___Tortoise ___Mexican Flag ___American Flag ___Mirror ___Telescope in purple drawstring bag (original edition, telescope expands farther than later edition) Josefinas Toy Farm ___House ___Chimney ___Steps ___Barn ___Trees, 2 ___Fences, 2 ___Animals (pig, horse, cow, goat) ___Wagon ___Lumber ___Box Josefinas Winter Collection Josefinas Serape and Hat ___Serape, terra cotta with pattern ___Hat, wide brimmed black felt with black ribbon, chin strap with bead Josefinas Winter Wear ___Socks, black knit with cream heel, toe, and ribbing ___Petticoat, white, with crochet lace at hem ___Pouch, brown suede ___Letter Josefinas Adobe Oven and Bread Set (in original box) ___Horno (oven) ___Twigs ___Door (wood) ___Suede piece for door ___Wool ___Paddle (for some reason there are two of them) ___Bread (1 pale, 1 brown) Josefinas Cocina Supplies (in original box) ___Mano ___Metate ___Jar ___Ring ___Dipper ___Basket ___Stick ___Chilis ___Squash ___Garlic ___Corn ___Pot ___Trivet Josefinas Bedtime Collection Sweet Dreams, Josefina! Josefinas Night Shift ___Shift, white with faint stripes, red ribbon at neck Josefinas Sleigh Bed (in original box) ___Bed, green wood ___Mattress, cream colored ___Pillow, cream colored bolster Sheepskin and Blanket (Josefinas Bedding) ___Sheepskin ___Blanket, striped, with fringe Bedside Table (in original box) ___Table Josefinas Nighttime Necessities ___Basin, blue and white china ___Towel, cream with hemmed edge ___Candle, tan ___Candlestick, silver metal ___Memory Box ___Soap ___Feather, dark blue ___Thimble, silver ___Turquoise Nugget ___Rattlesnake Rattle ___Charm, heart-shaped Josefinas Chest, original hinged version ___Chest there is a slightly shiny spot on the lid; not a scratch, but as if something rubbed against it. You can see it if you look at the correct angle there is a dent on one of the four feet.
It can probably be diminished by steaming but Ill leave that to you Short Story Outfits Josefinas Harvest Outfit ___Camisa, long-sleeved with floral embroidery ___Skirt, light green with print, white picot lace trim at hem ___Sash, burgundy, with fringe ___Hair Ribbon, green satin Josefinas Weaving Outfit ___Camisa, off-white cap-sleeved with maroon embroidery ___Skirt, off-white top, floral pattern bottom ___Sash, striped ___Rebozo, burgundy, faint diamond print Extra Items and Outfits Josefinas Party Outfit (Party Dress and Spencer Jacket) ___Dress, floral print ___Jacket, dark xxxxxx The one thing I dont have is this: Josefinas Herb-Gathering Outfit dont have___Rebozo, orange woven, with fringe dont have___Basket dont have___Herb bunch, purple flowers and yellow plants with red ribbon dont have___Whistle, non-functional clay bird dont have___Mortar dont have___Pestle dont have___Trading Cards xxxxxxx Josefinas Fiesta Dress ___Dress, black, floral print, long sleeves with puffs ___Stockings, white ___Shoes, black flats with bows Josefinas Dress and Vest ___Dress, white tip, red print bottom ___Vest, black ___Shoes, flat black Josefinas Shoes and Socks ___Shoes, beige, with laces ___Socks, red, knee-high ___Socks, black, knee-high ___Socks, tan, knee-high Ribbons for Josefina ___4 ribbons: orange satin, yellow satin, teal satin, red grosgrain. The item "Josefina Montoya American Girl collection 1997-2011 complete minus" is in sale since Saturday, November 2, 2019. This item is in the category "Dolls & Bears\Dolls\By Brand, Company, Character\American Girl\Josefina".
The seller is "kaeufer" and is located in Evansville, Indiana. This item can be shipped to United States.
Character: Josefina
Doll Size: 18 in
Type: Doll
Features: Collection
Collection: Historical
Brand: American Girl
---