American Girl Kirsten White Body Doll&Accessories Huge Lot Rare Collectors Items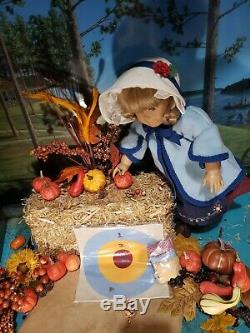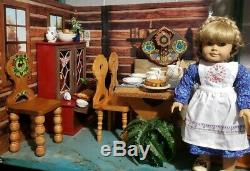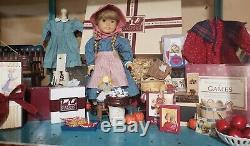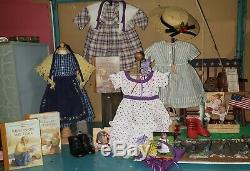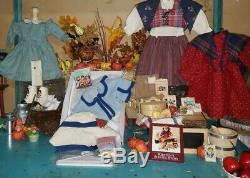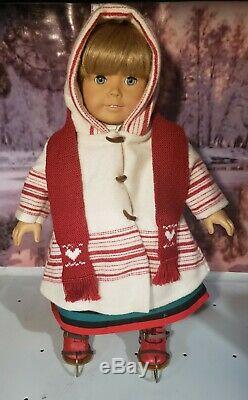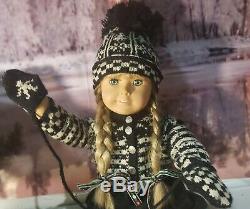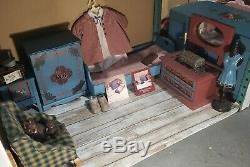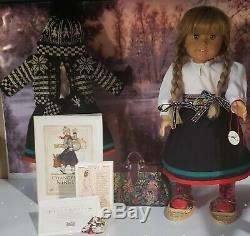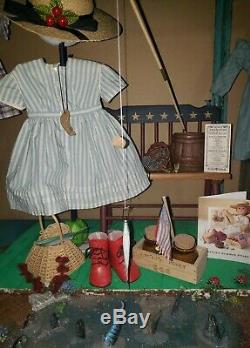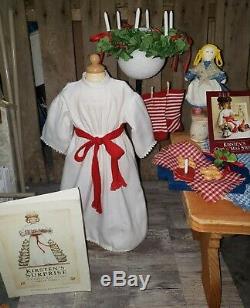 If You Have Been Hoping To Find The Unicorn Kirsten Collection, You Don't Want To Pass Up This Opportunity!! One of the most RARE and Nearly Complete Kirsten Collections You Will Ever Find With So Many Details and One Of A Kind Extras!
Almost All First Versions Of Outfits and Accessories In Immaculate Condition Unless Noted. I have tried to describe everything in extensive detail but if you have any questions, I will be more than happy to answer them and provide additional pictures if requested. The only things missing pretty much are her under garment set and the painted table and chairs.
HOLY GRAIL OF KIRSTEN ITEMS: BRAND NEW IN THE BOX RECESS OUTFIT SET CAPE AND HAT WITH BAG TOSS GAME IN PACKAGE BAKING OUTFIT BRAND NEW IN BOX COMPLETE: DRESS, APRON, SHOES, AND HAIR RIBBONS PROMISE DRESS, SHAWL, PURPLE HAIR RIBBONSVERY RARE!! , HARDBACK BOOKShawl Isnt In Good Condition DRESS COMES IN A VINTAGE GARMENT BAG ON AN AMERICAN GIRL HANGER ON THE TRAIL DRESS WITH SHAWL, APRON, HAIR RIBBONS, SOCKS, AND BLACK BOOTS AND HARDBACK BOOK DRESS COMES IN A VINTAGE GARMENT BAG ON AN AMERICAN GIRL HANGER MIDSUMMER DRESS, PURPLE BASKET, 2 FLOWER BOUQUETS, PACKAGE OF CARDS DRESS COMES IN A VINTAGE GARMENT BAG ON AN AMERICAN GIRL HANGER WORK DRESS AND RIBBONS (NEW IN PACKAGE) INCLUDES A CART WITH FLOUR, SALT, SUGAR, POTATOS, & FERTILIZER, EGGS, MILK CARTONS, STRAWBERRY POT, BASKET FILLED WITH PRODUCE. DRESS COMES IN A VINTAGE GARMENT BAG ON AN AMERICAN GIRL HANGER SWEDISH DIRNDL AND KERCHIEF 4 PIECE OUTFIT COMPLETE DRESS COMES IN A VINTAGE GARMENT BAG ON AN AMERICAN GIRL HANGER H O L I D A Y T R E A T S E T N E W I N B O X : Cookies and Buns Fused Together On A Wooden Tray Porcelain Bowl of Green Apples Green Table Runner, Blue Tea Kettle, 2 Mugs, and Red Candle Holder With 5 Candles Extras: Custom Red Cupboard, Swedish Shoes, Bowl Of Fresh Eggs, Ceramic Pitcher That Coordinates With The Rest Of Her Collection, 2 Copper Colored Decorative Metal Bowls, Candle, Bottle Arrangement. B E D T I M E S T O R Y : 2 Borderless Marketing Brochures Dated 1991&1998.
Large Storage Trunk That Fits Bed Inside- Hard To Find! Bed, Mattress and Pillow Included Gown, Robe, Sockors\ House Shoes Nighttime Necessities- Candle with Holder, Bedtime Book-Farleys Fables Nightstand, Footwarmer and Metal Bowl. Furniture To Coordinate With Her Collection- Custom Dresser, Armoir, Plaid Armchair, Jewlry Box, & Faux Hardwood Floor Included B I R T H D A Y S T O R Y 2 MARKETING BROCHURES-1 BORDERLESS DATED 1987 & Second one from 1999 2 Daisy Hair Wreaths-1 From 1986 That Came With Her Dress and a Second, Less Weathered 2 Toned Tan Boots & Socks Dress Pinafore 1986 Tag Birthday Quilt 1986 Tag Sewing Ring 1986 Tag Table and Chairs In Their Original Box Pottery Set-Table Cloth, 2 plates, 2 Mugs, 2 Napkins, 2 Sets of Silverware, 2 Wooden Bowls Bday Treats- Salt Box flower attangement, Heart Birthday Cake On Wooden Plate Surrounded By Strawberries Original Version Of Mama Kitty and Kitten With Stickers From W. Germany With Real Fur In A PC Box Hardback Birthday Book EXTRAS- Wooden Wall With Cuckoo Clock Custom Bench With Storage Drawers In Back and a Repurposed Chair All Designed To Replicate Her Painted Table and Castiron Trivet For Cake C H R I S T M A S S T O R Y Borderless Marketing Brochure Dated 1991 White St. Lucia Dress, Striped Socks, Red Hair Ribbons Head Wreath with All The Candles Original Version of The St.
Lucia Tray, Checkered Napkin, Holly Sprig, Candle in Heart Holder, 2 Pastry Rolls Seri The Doll Tagged Pleasant Company No Date Comes With a Custom Table Repurposed From an Old Pitcher From Her Pottery Set Topped With A Brand New In Box Humel Teaset and a Chair That Is Just Her Size! Hardback Book W I N T E R S T O R Y : Marketing Brochure, Wool Skirt, White Top 1990 Tag, Matching Hair Ribbons, Snow Shoes, Sweater Tagged 1989, Toboggan 1989 Tag, Mittens 1989 Tag, Floral Carpetbag/Suitcase, Thaumatrope, Paperdolls Hardback Book S U M M E R S T O R Y : Borderless Marketing Brochure Dated 1991 Large Straw Hat w/berries, Striped Dress 1990 Tag, Red Boots Original Set Fishing Pole, Straw Basket Filled With Caught Fish, Bait Basket w/ Drawstring Bait Napkin Filled With Critters FOURTH OF JULY SET- In Original Box. Honey Pot Crate With 2 Corked Honey Pots, 4th Of July Brochure, American Flag, Bird Whistle Hardback Book EXTRAS!
Patriotic Bench, Old Barrel, Extra Critters and Fish, Bee Searching For Honey and a Diorama of A Fish Pond Bank With Fish Jumping Around and Frogs , Turtles, Butterflies, and Lady Bugs S C H O O L S T O R Y Dress and Shawl Original Lunch Pail With Tag-Apple, Bread, Cheese, and Sausage Log School Bench, Water Bucket and Ladel, Backpack/Satchel 1989 Tag, Complete w/Chalkboard, Rag, Chalk, Ruler, 6 Merits/Report Cards, & Reader Book S C E N E S A N D S E T T I N G S : Cover- Kirstens House Pg 1 New York Dock Pg 2 Larsons Cabin Pg 3 School Pg 4 General Store Pg 5 Northern Woods Back Cover Map of Kirstens World This is Huge and Brings Each Set To Life! First Version 1986 Hardback Books Come In The Limited Edition Keepsake Box. Hallmark Kirsten Charm In Box The Portfolio of Pasttimes Games Doll Cleaning Powder Kirsten and the Chippewa.
White Body, Original Version Kirsten Doll From 88-89 In Very Good Condition With Complete Meet Outfit 1986 Tag and Accessories-New In Box. No Silver Eyes or Bubbles, Hair Possibly Tinsil Version and Slightly Dry On The Ends and Thin Which Is Pretty Typical For The Older Dolls Limbs Still Pretty Tight and Stands Easily On Her Own. Only Serious Offers Considered as This Is A Difficult Collection To Part With.
That said, My Asking Price Is Basically What I Paid and I'm Not Trying To Gain A Huge Profit By Marking It Up Unfairly. I Would Prefer To Sell All Together And If You Are Truly Interested, Reach Out To Me And Maybe We Can Reach An Agreement! The item "American Girl Kirsten White Body Doll&Accessories Huge Lot Rare Collectors Items" is in sale since Wednesday, August 26, 2020. This item is in the category "Dolls & Bears\Dolls\By Brand, Company, Character\American Girl\Kirsten". The seller is "kroberts331" and is located in Pinson, Alabama.
This item can be shipped to United States.
Collection: Historical
Brand: American Girl
Custom Bundle: Yes
Type: Doll Clothes & Accessories
Character: Kirsten
Features: Lot
---