American Girl Doll Samantha Parkington 35th Anniversary Collection New in Box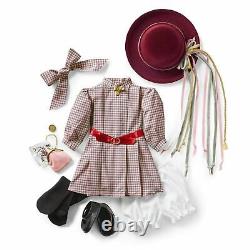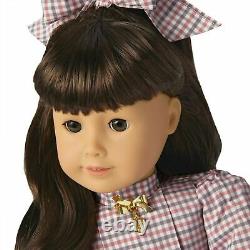 American Girl Doll Samantha Parkington's 35th Anniversary Collection Edition with Accessories. Samantha was one of the first six dolls introduced by Pleasant Company, now American Girl. We're celebrating the 35th anniversary of her launch with this special collection, which includes: A Samantha doll almost just like the original doll from 1986-she even has a neck string!
She has light-brown eyes and wavy dark-brown hair with bangs A checked taffeta dress with a pleated front, puff sleeves, and a ribbon belt with a buckle at the waist A pair of white cotton bloomers with an elastic waist A pair of black rib-knit tights A pair of black Mary Jane shoes A wide hairbow made of the same taffeta as her dress A plush burgundy hat trimmed with ribbon A pink velvet purse with a gold clasp and chain A white lace-trimmed hankie embroidered with flowers A golden metal bow-shaped brooch with a heart pendant A reproduction penny from her time in a paper envelope A Meet Samantha paperback book with the original book design.
---