American Girl Pleasant Company Samantha White Body Whole World Collection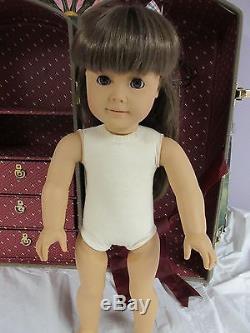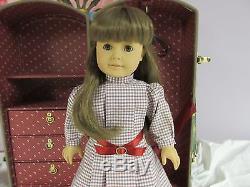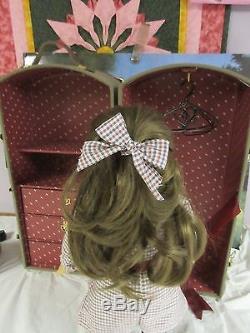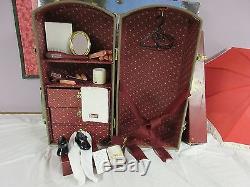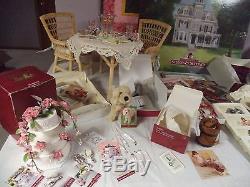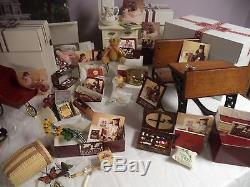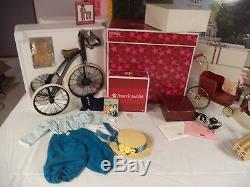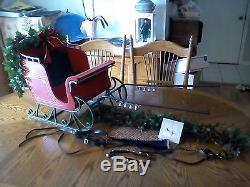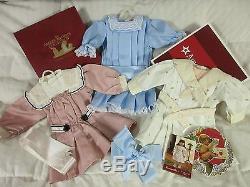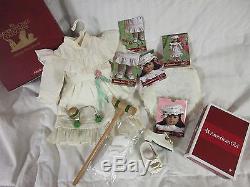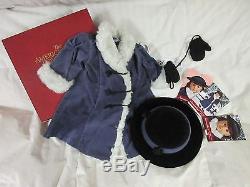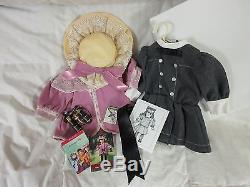 White Body West Germany Pleasant Company doll Samantha and her collection. She is beautiful all collector owned. She has a gash in the back of one of her legs. She was placed on a glass coffee table while owner dusted her cabinet. Dropped a heavy art piece on the table....
Asked why she never sent. Her husband surprised her with a new Samantha, she could. See the quality did ot match her doll, decided to keep her as she was. The gash is on back of leg, please see picture. No odors, pets, rips, tears, very well cared for collection.
She used a bedroom in her home. Not All Books are included in this lot, owner kept some and I ask you to refer to pictures. I have taken over 40 pictures, can only list 12 above, so here is the total of them which. Makes for long, long description..... Plus I have used American Girl Playthings pictures. And descriptions below my pictures to outline all I could about what is included with. Each and about any tags, please take note of my comments in RED font. Your Samantha doll has sparkling brown eyes that twinkle as they open and close. Brush her long curly hair and tie it up with a big, beautiful bow like Victorian girls wore. Hug her soft body and mover her arms, legs, and head. She can site, stand, and hold all the treasures that come in her collection. Samanthas checked taffeta dress has a fashionable pleated front and a dropped waist circled in burgundy satin. Her matching bow holds back her thick brown ringlets. She wears long black stockings and black shoes with ankle straps. Samantha Doll & Paperback Book Dress Tagged West Germany Doll marked at keck back Pleasant Company and has Artist Mark behind er, hard to get picture of that. Samantha was introduced to the American Girls Collection in 1986. Also includes a pair of white undies, see appendix. Samanthas Accessories Samanthas hat is big and fancy, like everything else in Victorian times. It is made of burgundy plush and trimmed in ribbons of rose, dove gray, and gold. Pin a golden brooch on Samanthas dress. The heart-shaped locket that hangs from it opens and closes. Inside is a place for her pictures of her mother and father. You can cut them out and paste them in yourself. Samantha carries a rose velvet purse with a gold chain to slip over her wrist. Tucked inside is a beautiful handkerchief and a shiny Indianhead penny. Its a real coin used during Samanthas time and is worth 78 cents today! (penny becomes a reproduction coin in 1994) In Box w/real penny SMA. Buster Brown Dress Samantha wore her gray Buster Brown dress with its snappy black bow tie to school to school at Miss Cramptons Academy. Its made of fine flannel and has a pleated skirt and placket front that are top-stitched in white. Six buttons march smartly down the front, and white collar and cuffs add finishing touches. It comes with a wide black satin hair ribbon which Samantha had to keep perky even during afternoon exercise classes. Tea Tin Lunchbox Each morning Mrs. Hawkins, the cook, packed a lunch for Samantha in a shiny brass pail that was originally filled with tea.
Her lunch is light and ladylikehalf of a watercress sandwich , a deviled egg , a perfect peach , and a gingerbread cookie. Tuck the proper embroidered cloth napkin in with the make-believe food before you put the lid on. In Box SSAL Retired 2007. Samanthas School Desk When Samantha was asked a question by her teacher at Miss Cramptons Academy, she had to stand next to her Victorian desk to answer.
When she sat down again she might find a secret note from her friend Helen tucked into the metal curlicues of her hardwood desk. You can pass secret notes to Samantha too, but watch out for Miss Crampton! In Box 4 small marks like pin marks on front of desk, she picture. Book Strap & Supplies A book strap was the practical modern way for girls to carry their books in 1904. Put Samantha's school supplies under the two straps and fasten the buckles tightly.
Samantha wooden pencil box has a top that slides off. Inside youll find two pencils and a nib pen the kind she dipped into an inkwell. Theres also a green felt pen wiper to clean it. You can write on the little pages of Samanthas Composition Book. When Samantha taught Nellie to read, she used The Baldwin Primer. You can read this tiny 32-page version of the original book, too. Its filled with stories, pictures, and songs. Fill out the Report Book with grades for her subjects and proper deportment!
Cranberry Party Dress Samanthas Christmas outfit of cranberry taffeta is the perfect Victorian party dress. Its tied with a white satin sash and trimmed with beautiful lace and elegant ruffles.
A pair of white stockings and a wide satin hair ribbon finish this Christmas confection. Tagged Pleasant Company No Box SCO See appendix. Samanthas Doll II For Christmas, Samantha longed for the beautiful doll she saw in the window of Schofields Toy Store.
Its made of porcelain with movable arms and legs. Her hair is tied back in a big pink bow that matches her ruffly party dress. In her arms she carries a tiny wooden nutcracker the perfect Christmas doll. In Box SCAD Released 1993.
Christmas Music Box One of Samanthas special presents on Christmas morning was a bright red album of carols with a music box in it. This miniature version has tiny pages filled with Christmas songs that American girls have been singing for more than a hundred years. And at the back is a tiny music box. Wind it up and it plays Samanthas favorite carol, O Christmas Tree.
In Box Tag Pleasant Company Tiwan SCAC. Real Gingerbread House It took Samantha an entire morning to decorate her gingerbread house. It wont take you as long because you can use a gingerbread house kit. Everything you need is included: the real gingerbread pieces already baked, the candy trim , the pastry tube , a recipe for simple frosting, and directions.
You just make the frosting and put the pieces together. A wonderful miniature centerpiece when you share Christmas dinner with Samantha. In Box SCAG Retired 2006. Lacy Pinafore & Rosebud Circlet Frilly and fanciful, Samanthas birthday dress is or rose- and white-striped taffeta. Its covered with a crisp white pinafore that has ruffled lace bretelles and a wide sash that ties into a huge bow.
There are even party stockings to go with it. But the crowning glory of this outfit is Grandmarys gift, the old-fashioned circlet of rosebuds that once belonged to Samanthas mother.
Tie it around Samanthas head and let the soft ribbons float on her dark curls. Tagged Pleasant Company 1990 No Box SBO 2007 ReCode D7933. Mohair Teddy Bear Named after Americas president, Teddy Roosevelt, teddy bears were all the rage in 1904. Samantha got hers from Agnes and Agatha, the sophisticated twins from New York City who always had what was new and popular. Your teddy bear is 5 12 tall and made in England of real mohair, just like the original ones were. His arms, legs, and head move, and he comes with a perky pink bow around his neck.
Cant you see why Samantha loved him? Elegant Doll Pram Uncle Gards birthday present to Samantha was a fine doll carriage that the Victorians called a pram.
Samanthas beautiful porcelain doll and her new teddy bear fit in it for afternoon walks. As Uncle Gard would say, Wont they look dandy? Wicker Table & Chairs Wicker was the popular summer furniture found on Victorian porches and in garden gazebos. Samanthas table and two chairs are miniature reproductions of pieces that were made at the turn of the century by a well-known wicker designer, Cyrus Wakefield. Plump, comfy cushions in an enchanting cabbage-rose chintz are tied to the chairs with big puffy bows.
Theyre perfect for the leisurely, luxurious life the Victorians loved. Wont you pull up a chair? Tagged Pleasant Company No Box SF 2007 ReCode D8001. Victorian Lemonade Set Samanthas birthday table was set with Grandmarys laciest linen and finest summer dishes.
The little cherries on the thumbprint glassware have been hand-painted in cerise and gold, just like the antique dishes found in a museum collection. The complete table service includes two goblets , two saucers , a pitcher , two gold-colored knives , forks , and spoons , an embroidered tablecloth edged in Battenberg lace, and two lace-edged napkins. Please pass the pink lemonade! Tagged Pleasant Company Tiwan No Box SBAC.
Samanthas Party Treats Samantha wanted a grown-up party for her tenth birthday. So instead of a regular birthday cake she had a platter of dainty petit fours and homemade ice cream that was molded into pretty bombs and topped with cherries. Samantha gave each guest two favors: a lacy fan that opened and closed and a nosegay of pink ribbon roses tied in a paper doily with a bow.
You can have the same elegant party with four petit fours on a gold-rimmed platter , two ice cream bombs , two fans , two nosegays , and a special acrylic holder so Samantha can hold her favors. Ice Cream Freezer When Eddie Ryland sprinkled salt in the ice cream, Samanthas party was nearly spoiled.
You can make your own doll-sized batch of delicious homemade ice cream with an ice cream freezer that really works! Included is a recipe book with instructions on how to make this frozen treat using your own fresh ingredients.
Surely it will taste as yummy as the peppermint ice cream Samantha sampled at Tysons Ice Cream Parlor. In Box Says Addy ABAN (added to Samanthas collection in 1998). Sa mantha Saves the Day.
Middy Dress with Tam Every Victorian girl had a middy dress , a most popular style in 1904. Samanthas is trimmed in black braid with an anchor, a crest, and stars on the back of the big square collar. A shiny brass bosns whistle hangs on a cord around her neck. With the middy , Samantha wears a sailors tam for an outfit thats truly shipshape!
Tagged Pleasant Company 1991 No Box SAO. High Button Shoes High button shoes in black and white are a stylish part of Samanthas wardrobe.
In Box SAOB Retired December 2007. Nature Paraphernalia For the Victorians, vacations were a time to learn about the outdoors as well as to have fun there. On sunny days at Pine Pint, Samantha loaded up her pack basket and took a nature hike into the Adirondack Mountains.
She chased butterflies with her net and picked wildflowers like these black-eyed Susans. Back at the lodge you can help her study the butterflies with her magnifying glass and dry the flowers she picked in her wooden flower press. You can press real flowers in it, too! Pleasant Company In Box with Original Cream colored Handle on Magnifying Glass SAAN See appendix. Summer Amusements I Even rainy days were fun a Piney Point, if there werent too many of them! Samantha stitched pine needles into a little tuffet as a spicy-scented memento of her vacation to take back home at the end of summer. Rainy days were perfect for painting, too. Samantha would take out her paint set with its palette , brush , and six tubes of watercolors and paint pictures just like her mother had done in her sketchbook when she was a girl at Piney Point long ago. There are blank pages for you to paint in, too. Plaid Cape & Gaiters Samantha looks like a sophisticated city girl in her cape of Black Watch plaid. Its trimmed in navy soutache braid and ties with a silk cord. When she goes skating in Central Park, slip on her plaid gaiters over her shoes to keep her legs warm.
Tagged Pleasant Company 1990 In Box SWO. Elegant Hat & Muff The most perfect accessories you can imagine are Samanthas stylish hat and muff made of make-believe fur. Nothing could be prettier or cozier for a young Victorian lady!
Tagged Pleasant Company 1991 In Box SWOA. Lacy Whites Samanthas underthings are really too pretty to hide under her dresses. Her underwaist with pink ribbon and lace has elastic garters to hold up her long white stockings.
It buttons to a full petticoat thats tucked and trimmed with lace and ribbons, too. Tagged Pleasant Company 1990 No Box SWAU. ALSO includes an American Girl Doll Stand In Box. Victorian Valise Samanthas black valise with its fine brass fittings came in handy when she helped Nellie sneak out of the orphanage. Fill your valise with her pretty whites when she goes on a trip to visit Grandmary.
Tagged Pleasant Company Tiwan No Box SWAL. Winter Amusements Whether inside or out, Samantha always had plenty of wintertime fun in the city.
She loved to put on her ice skates and go skating with Uncle Gard in the park, or play with her French paper dolls during tea with Aunt Cornelia. And her favorite pastime of all was making lacy valentines.
You can make three valentines just like Samantha did with your valentine kit. A fun winter project for you and Samantha! Tagged Pleasant Company Tiwan Owner removed paper dolls set from brochure but all there Inn Box but band missing from the Box SWAF Retired. Samanthas Nightgown A nightgown fit for a sugar plum fairy! Samantha wears a flowing white gown trimmed with lace and pink ribbon. Fine lace forms the wide shoulder ruffles and a dainty version edges the neck.
Tagged Pleasant company In Bag SDO. Kimono & Slippers Samanthas bathrobe is a Japanese-inspired kimono that was very fashionable in 1904.
Its edged in ivory satin that matches the tiny nosegays on the soft rose fabric. Her hand-crocheted slippers have looped turkey work trim and tiny satin bows. Tagged Pleasant Company In Bag SNO.
Samantha sleeps in a shiny brass-plated bed. Its a four-poster with a curvy Victorian headboard. Her soft white mattress is covered with a lace-trimmed spread tufted with pink ribbons. Her fluffy pillow is edged in ruffles, lace, and ribbons, too. In a bed so beautiful, how could she have anything but pleasant dreams?
Tagged Pleasant Company 1992 No Box SB. Samanthas Commode Samanthas wood commode has a smooth white finish, and fancy brass fittings that match her bed. Hang her hand towel on the bar, and slide her book into the pull-out drawer. The double doors swing open so you can store her pitcher and bowl inside. Nighttime Necessities Help Samantha get washed up for bed with a china pitcher and bowl and a ladylike lace-edged towel. After shes all tucked in, read to her from an original edition of The Wonderful Wizard of Oz a story thats still enchanting young girls today! Extra's and Other Outfits for Dolls. Samanthas Trunk You can keep all of Samanthas Accessories in this elegant Victorian steamer trunk. Covered in gray Cordura with brown, leather-like trim and brass-plated hardware, this exquisite trunk is lined in a burgundy paper with a delicate old-fashioned pattern. Inside are three drawers , a built-in shelf, an oval brass mirror , and three wire hangers.
The trunk is big enough for you to keep Samantha in, too, when you finish playing with her. A true heirloom No Box ST Includes Hair and body care products see pictures. Samanthas Shoes & Socks Includes two pairs of stockings in black and white, a pair of white socks , and black patent shoes with straps that snap closed.
His just has the Shoes and the White Tights In Box SXOA (added in 1991). Samantha's Scenes and Settings All Buttons ad Snaps Intact and she used a lot, shows wear on edges. Play Dress & Pinafore Samantha dressed like a proper young lady even when she was playing. Her dress of blue and white window pane check had a big yoke and crisp white cuffs. The ruffly play pinafore was supposed to keep the dress clean and the matching hairbow was supposed to stay tied even when she was climbing trees or chasing bratty Eddie Ryland. A pair of white socks is included. Tagged Pleasant Company Hungary 1989 Socks Tagged Pleasant Company Spain. In Box SXO (outfit added in 1989).
Tea Dress Samantha practiced her manners during afternoon tea with Grandmary. She tried to act like a proper young lady in her starched white dress with its big detachable Bertha collar trimmed with a rosette and ruffles. It comes with a pink satin hairbow that matches the lovely wide sash and a pair of white socks.
Be careful she doesnt spill tea on such a pretty dress! Tagged Pleasant Company In Box SPO Released 1991 Retired Fall 2007. White Party Slippers Samanthas shiny white patent slippers are trimmed with bows that match her tea dress. Samanthas Bathing Costume I If Samantha wanted to take a dip at Piney Point, she wore a bathing costume that looked a lot like a dress!
Double-breasted with polka-dotted trim, Samanthas two-piece bloomer suit with gathered overskirt comes with matching polka-dotted shoes and a straw hat to shade her face. In 1904, bathing suits were heavy when wet. So ring buoys , or life saves, were not a toy but a necessity!
Keep Samanthas buoy close at handjust in case! Tagged American Girl In Box Includes Hat from the Later made Bathing Outfit SLO discontinued (this outfit was introduced in 1997 as one of the Limited Edition outfits). Samanthas Skating Party Dress Samantha could hardly wait for the skating party she had planned with her friends. And she already knew what she wanted to wear. Samanthas fancy blue crepe dress has a dropped waist and a French blouson top.
A wide satin sash ties in a big bow in back. Fluff Samanthas hair and pin it back with a matching bow barrette. Tagged Pleasant Company No Box SHO. Travel Duster & Hat Samantha is dressed for adventure in her fashionable duster and hat. Tie her scarf around her neck to keep out the chilly ocean breezes!
Tagged AG in Box STO Retired 2005. She has a parasol to shade her skin plus a brush and mirror. Samanthas Talent Show Dress Samantha has to look grown-up for the big talent showafter all, she organized it herself!
Her elegant rose-colored dress has a lacy yoke and delicate rosettes, and a wide satin ribbon to keep her hair neat. Tagged AG In Box SJOS.
Samanthas Lawn Party Outfit Samantha loves to play croquet at Grandmarys summer lawn partiesshe can even play it dressed up in her ruffly dress and fancy hat. Help her hit the ball through the wicket with her mallet.
Includes four Samantha trading cards. Tagged AG In Box SKO Released Spring 2004 Retired Summer 2007.
Samanthas Party Shoes & Socks Elegant shoes and matching knee-high socks match Samanthas Lawn Party Outfit. In Box SKOA Released Spring 2004. Samanthas Bridesmaid Dress This lilac and lace gown has a full-length skirta rare treat for a girl Samanthas age. The hat has a pink silk flower to match her bouquet. Tagged AG In Box with no markings SROW (added in 2004). Samanthas Bridesmaid Accessories This beautiful wedding cake comes with a traditional bride and groom topper. Special slots in the top layer hide six tiny charms on ribbons. Includes a souvenir wedding invitation and a fancy mirror and brush for last-minute primping. The card in this picture IS included, sorry I forgot to include with the pictures SRAW (added in 2004). Samanthas Holiday Coat Samantha looks like and angel in this warm velveteen coat with faux-fur trim. Her hat has a matching velveteen band and pretty flowers.
Black knitted mittens add a warm touch. Tagged AG In Box SROC. Central Park Sleigh & Accessories This festive sleigh lets Samantha and Nellie glide swiftly over the snow as they huddle under a warm flannel and faux-fur blanket. Sleigh has plush fabric seat, wooden body with metal runners and rails, and a pretty holiday garland. Faux-leather bridle and reins with plastic sleigh poles attach the sleigh to the horse.
Jingle bell accents announce their arrival. No Box SRAS (added in 2005). Jip the Dog Jip is a playful, energetic mixed-breed pup who brings plenty of excitement to Samanthas life. No Box, but I put the dog in a Nellie Box and Jip includes a trading card, see pictures. Samanthas Spring Party Dress Samanthas creamy Victorian complexion lights up with this pretty dress.
Sprinkled with rosebuds and trimmed with pink piping, the dress is accented by a crossover collar and belt. Comes with a matching hairbow and three paper valentines to share with the special people in her life.
No Bow and No Box SVO (added in 2005). Samanthas Beach Umbrella Open this fringed beach umbrella and prop it up close to Samantha to shield her from the sun. Excellent Umbrella, In Box with lots of shelf wear!
See pictures (added in 2005). In the early 1900s, proper young ladies like Samantha chose clothes that would ease their ability to ride a bicycle astride. Her bloomers are perfect for the task.
Adding a feminine touch is her diagonal-striped blouse , and removable gaiters protect her shoes and stockings from getting dirty. Includes a straw boater hat trimmed with yellow spring flowers and a brand-new ribbon. Tagged AG In Box SRO 2007 ReCode F3669 (added in 2006). Imagine Samanthas delight when she discovers Uncle Gards old bicycle in the carriage house!
Though the metal frame, seat, and rubber tires are still in good shape, Samantha adds a basket and flowers to make it her own. Help her hop on and pedal the free-spinning wheels.
In Box SBK (added in 2006). Samantha discovers that Piney Point isnt the only place to enjoy nature.
Help her explore her backyard in Mount Bedford in her mauve coat and matching hat. Her binoculars really magnify, so sling them over her shoulder in case she spots a yellow-bellied sapsucker or another one of the birds shown in her set of identification cards. Tagged Pleasant Company In unmarked white striped Box Not Orginal Box SASO (added in 2006). Samantha's Velvet Dress Samantha cant wait to wear this fine dress when Uncle Gard comes to visit during the holidays. It features a wide scalloped collar, satin trim, and delicate lace at the yoke and sleeves.
Samantha wears a fancy ribbon headband in her dark curls for a festive look. Tagged AG In Box Item# F8465. Victorian Valentine See Picture some items Missing. Books and Extras For Girls. Please see Pictures for all books and Extras included.
Underwear that comes with the "Meet" outfit and doll. The lace on Samanthas Christmas dress was originally a different pattern than on the current dress. The lace on the original dress seemed more delicate and has what collectors refer to as a heart shape pattern. The color of the dress's has changed as well. The first dress simply red. The other two versions of the dress aer burgundy one with a heart shape pattern in the lace and the other two having either flowers with stems or flowers without the stems. From Samanthas Nature Paraphernalia set the magnifying glass has changed. The handle on the magnifying glass changed from cream colored to black in 1996. All packed and logged from my smoke free home. It has taken over my sewing room! Please ask any questions, thank you!
The item "American Girl Pleasant Company Samantha White Body Whole World Collection" is in sale since Wednesday, May 24, 2017. This item is in the category "Dolls & Bears\Dolls\By Brand, Company, Character\American Girl\Samantha". The seller is "jaba022942" and is located in Joliet, Illinois.
This item can be shipped to United States.
Brand: Pleasant Company
Character: Samantha
Doll Size: 18"
Product Type: Doll(s) with Clothing/Accessories

---