American Girl Girls of Many Lands Sculpted by Helen Kish All 8 dolls NRFB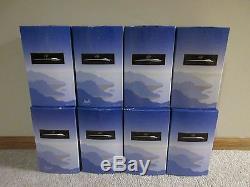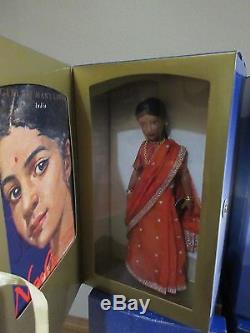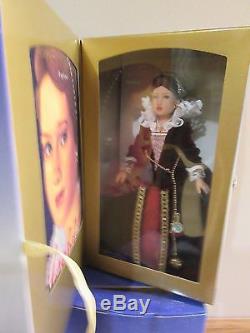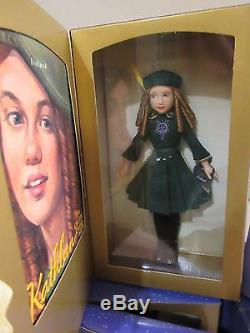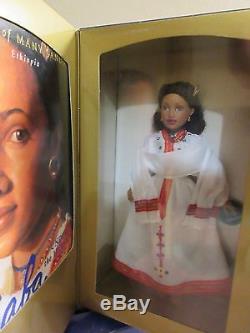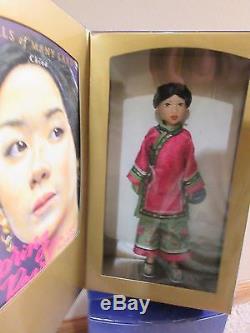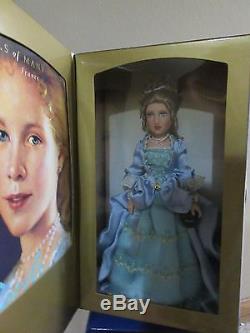 American Girl Girls of Many Lands Sculpted by Helen Kish All 8 dolls NRFB. Please see listings on ach doll below. Please ask any questions you may have. The Girls of Many Lands. As you get older, the world seems both bigger and smaller at the same time. It's full of opportunities and questions too. How do I fit in? What is life like other girls my age? Girls of Many Lands connects you with 12 year old girls from long ago and far away who are facing the same questions. Together the dolls and books offer you a glimpse into the lives of other girls.
The dolls are delicately sculpted by Helen Kish and intended for display. The shimmering silks, rich velvet, delicate laces, and soft furs reveal hints of the life each girl led, from wealthy refinement to rugged survival.
The books, written by award winning authors, tell the stories of each girl's life. As you build your collection, you'll learn about worlds that are both old and new, foreign and familiar and you'll find yourself drawn who may we distant in time and placebut who are close to you in spirit. 12 year old Cecilé Revel can hardly believe it - The elegant gown she is wearing was made just for her. Her silk underskirt gleams with rows of golden embroidery and her shimmering silk satin gown fastens at the waist with a sparkling broach. Her low-healed mules, or shoes, are fringed and embroidered to match her gown. Everyone at the court of King Louis XIV, the sun king, is dressed for the grand ball. Even Cecilé, who is only a servant caring for Madame's dogs, is invited to celebrate the end of the long war with Germany. When the king's young grandson asks Cecilé for a dance, Madame quickly winds her own pearls around Cecilé's neck and through her hair, and slips her ostrich feather fan into Cecilé's hand.
Now Cecilé is ready to dance with royalty. In the complicated world of court life, Cecilé gradually discovers that her heart and spirit are more noble than she thinks.
When the time comes, she is inspired to save a life and unravel the secrets of her own past. Comes with doll on stand and Paperback book Cecile: Gates of Gold by Mary Casanova, Jean-Paul Tibbles (Illustrator).
For 12 year old Isabel Campion, Christmas Eve is a day of bright, shivery happiness. At last she will see here beloved brother, Robert, and hear of his exciting life as an apprentice to a spice merchant.
How she longs for adventures and excirtement of her own! Isabel dresses quickly in the chilly air, starting with a real farthingale, a petticoat that stand out stiffly from her waist. The bigger the farthingale, the more yards of expensive fabric neeeded to cover it - as so the wealthier the family. Isabel's bodice and overskirt are made from rich, soft velvet lined with gold satin, and her underskirt is silk jaquard.
Her girdle, or belt, holds a mirror, keys, and a gem-studded pomander, filled with lavender to cover up the smells of the city and to protect her from disease. With her hair tucked into a snood, or hairnet, Isabel's starched lace ruffle frames her face, and calls attention to the gold and pearl jewelry that shows off her father's social standing.
But Isabel has adventure, not social status in mind, and her determination leads her to the most rewarding - and dangerous - adventure of her life. Stands 9 tall, and comes with the book, Isabel: Taking Wing, by Annie Dalton, Mark Elliott (Illustrator). Released Holiday 2002 Retired Spring 2005.
Winner of an Oppenheim Toy Portfolio Gold Award (2003). White missionaries have come to 12-year-old Minuks tiny Yupik village. Other children run away from the newcomers, but Minuk is too curious to be afraid.
Minuks one-of-a-kind parka is sewn from arctic ground-squirrel pelts, with triangles of white caribou fur decorating the hood. Her wolverine-fur ruff and tassels and her caribou-fur boots with sealskin bottoms keep her warm and dry. The clothes that her mother and grandmother sew with such skill and love keep Minuk safe through what turns out to be the darkest winter of her life.
9-inch Minuk doll includes stand and Minuk: Ashes in the Pathway paperback book by Kirkpatrick Hill. As a Chou, Spring Pearl walks across Canton and into her new life in Master Sung's household, she is wearing an esquisite, one-of-a-kind aoku (ow-kue), or tunic and trousers. The rich pink and green silk is embroidered with camellias, a symbol of spring and a clever play on. Tiny frogs, or knots, hold the jacket closed. Spring Pearl's sewed the auku especially for her daughter, one of the last things she made before thse died. When 12 year old Spring Pearl wears it, she feels her mothers love still surrounding her, warming her and keeping her safe. Spring Pearl pins her unruly hair back with elegant green dragonfly and teardrop hairpins. In silk platform shoes, embroidered to match her outfit, it's easy to see that her feet are not bound, as was the custom for chinese girls. In fact, Master Sung's daughters tease Spring Pearl about the unladylike size of her feet. But when the time comes to save both herself and the Sung family, Spring Pearl is grateful for both her big feet and her freedom. HJer simple jade bracelets- al her atrist parents could afford - are symbols of good luck. Doll includes stand and the Spring Pearl:The Last Flower paperback book by Laurence Yep, Kazuhiko Sano (Illustrator) HDP3.
Winner of an Oppenheim Toy Portfolio Gold Award (2003) Twelve-year-old Neela Sen is wearing her first sari in honor of her sisters wedding. The sari is made from a single piece of orange silk chiffon, six feet long and embroidered with silver flowers. Her silk taffeta choli, or blouse, closes with a delicate beaded tie that crisscrosses in back. Her new gold necklace is to be added to her wedding dowry, but Neelas heart is stirred more by Indias freedom fight than it is by the thought of marriage. As India struggles for its freedom, Neela also strives for her chance to grow independently and with pride.
9-inch Neela doll includes stand and the Neela: Victory Song paperback book by Chitra Banerjee Divakaruni, Troy Howell (Illustrator). Released Holiday 2002 Retired Summer 2005. After she is kidnapped and taken to the emperors palace, 12-year-old Sabas worn and ragged clothes are replaced by finery fit for a princess. The brilliant embroidery on her soft cotton dress matches the embroidery on her shamma, the traditional Ethiopian shawl. Sabas sturdy leather sandals, called berebaso, were given to her by a soldier on the trek from her home to the capital.
And though Saba now wears gold to signify her royal blood, her silver cross necklacea gift from her beloved grandfather who raised hermeans more to her than all the gold in the world. As the struggle for the emperors throne rages throughout Ethiopia, Saba must unravel the secrets of her past and face her fears in order to save herself from the power-hungry hyenas bent on destroying her family.
Your 9-inch Saba doll includes a stand and Saba: Under the Hyenas Foot paperback book by Jane Kurtz. Doll includes stand and the Paperback book Saba: Under the Hyena's Foot by Jane Kurtz, Jean-Paul Tibbles (Illustrator)HDP7. When 12-year-old Kathleen Murphy discovers Irish dancing, she feels more like a Celtic princess than a poor girl from the Dublin tenements. She doesnt mind practicing hard for the big dance competition.
But then she learns that to compete shell need an expensive dance costumewhich her family cannot afford. Luckily, Kathleens Aunt Polly comes up with a surprising solution! Kathleens pleated Irish dance dress is made of soft green wool and trimmed with satin piping. Celtic knots are embroidered on the bodice and at the bottom of her brat, or cape, which is lined with yellow silk. Gold pins symbolizing Old Ireland secure her brat and the jaunty feather in her beret, and three dance competition medals jingle at her waist. Your 9-inch Kathleen doll includes a stand and Kathleen: The Celtic Knot paperback book by Siobhán Parkinson. Doll includes stand and the Paperback book Kathleen: The Celtic Knot by Siobhan Parkinson, Troy Howell (Illustrator)HDP6. Released Fall 2003 Retired Summer 2004. Twelve-year-old Leyla is dismayed to learn that the mighty Sultan wants to meet all the women of his household even the servants and slaves that very day. All she has to wear are her soiled gardening clothes!
But the other girls set right to work transforming her. They dress Leyla like a princess: A kaftan of the finest silk brocade is tied over a sheer, lace-trimmed blouse and baggy silk trousers.
A silk chiffon scarf embroidered with gold thread is held in place by a rope of gold coins and a gold and emerald brooch. The girls also lend Leyla emerald earrings, gold bracelets, a fan, and long strings of pearlsthey even braid pearls into her hair! Leyla yearns for her family and her home. But when she discovers her kismet, or destiny, in Istanbuls glorious Topkapi Palace, she learns to embrace her new life and face the future with hope.
Your 9-inch Leyla doll includes a stand and Leyla: The Black Tulip paperback book by Alev Lytle Croutier. Doll includes stand and the Paperback book Leyla: The Black Tulip by Alev Lytle Croutier, Kazuhiko Sano (Illustrator)HDP8. The item "American Girl Girls of Many Lands Sculpted by Helen Kish All 8 dolls NRFB" is in sale since Sunday, May 7, 2017. This item is in the category "Dolls & Bears\Dolls\By Brand, Company, Character\American Girl\Today & Other American Girl Dolls". The seller is "jaba022942" and is located in Joliet, Illinois.
This item can be shipped to United States.
Brand: American Girl
Product Type: Doll(s)
Doll Size: 9in.
Character: Girls of Many Lands

---